Preproduction Fridays: O'Doherty sisters
on
August 16, 2013
at
12:50 am
Sorry about Tuesday. Two characters today to make up for it.
The O'Doherty girls! No before this time, as Gracie hasn't changed and Judith used to be a skinny Jugs.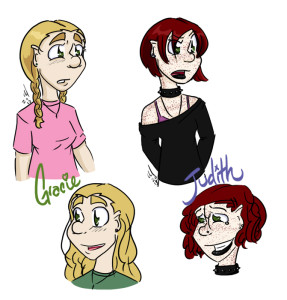 Gracie got to keep her nose because I fucking love it.
And Judith done turned herself into a gothbaby. I'm letting her run with it. We'll see if it sticks.  Right now, I'm thinking it's fantastic.
Trying to make them look more like sisters this time around. Same eyes, same longer face shape, same nose–though Gracie's is huge and I fucking love it. Same curly hair; if Gracie cut hers, it'd be unhinged too–or conversely, if Judith grew hers out it'd be manageable like Gracie's.
Judith also has the giant eyebrows, but she wields tweezers like lipstick.
Have I mentioned how much I fucking love Gracie's nose? Because I love it more than her eyebrows and I fucking love her eyebrows.